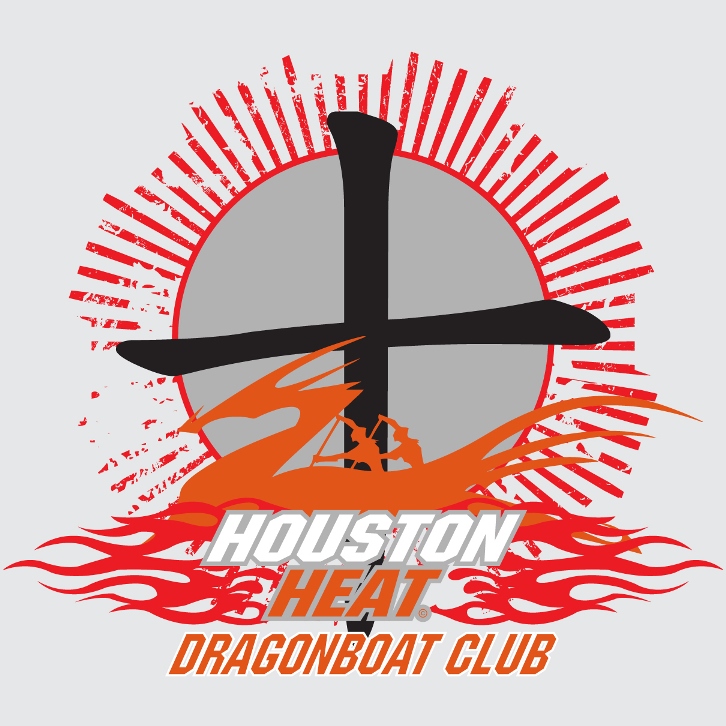 Happy 10th Anniversary Houston Heat! How did time go by so fast? Our club had its humble beginnings in June 2006, and the premise is the same today as it was back then – a group of people paddling together in a dragon boat because they love the sport and the challenges it presents. After a few years of leasing boats, Houston Heat made a significant investment in its future and acquired 3 boats, thanks to the efforts of David, Jeff, Herbert, Ann and Albert. The 4th vessel in our flotilla is owned by David's Exmar Offshore Company but he generously makes it available for HH use as well as the storage facility.
Early practice sites were at Tony Marron Park on Buffalo Bayou and the Houston Watersports complex near Pearland. Soon after securing long term storage agreements at nearby warehouses, regular practices began in Sugar Land and Clear Lake, instead.
Many wonderful memories have been created as HH teams entered in local competitions and also traveled to the Woodlands, Austin, Dallas, Grand Prairie, Oklahoma City, Shreveport, New Orleans, Boston, Tampa, Long Beach, San Francisco, Denver, Vancouver, Montreal, Toronto, Hawaii and Hong Kong. Along the way the Gulf Coast Dragon Boat Alliance was created, with teams consisting of the Houston Heat, Austin Coolers, Dallas DUC Delite, Pink Phurree, Blind Fury, Cajun Invasion, All Hands Abreast, FYP Island Warriors, Gavel Dragons, and Exmar. Many of our members have also taken the opportunity to paddle with other teams and also qualify for national teams.
Additionally, our club members have served as participants, mentors and hosts to some extraordinary teams and organizations that recognize very special people in need of some physical activities that allow them to compete with other athletes in a team water sport. Some of these special teams served to date have been the visually impaired (Blind Fury), Cancer survivors (Pink Phurree, All Hands Abreast, Cajun Invasion) and the Youth teams.
HH has also been a social club, of sorts, and there have been a number of hook ups, babies, and grand babies that have enriched the lives of many members. Special thanks to Margaret for those times when she hosted the annual HH birthday celebrations at her home and swimming pool as well as the times when the Yee Family has generously invited HH to their private compound for some needed boats/trailers and gear maintenance.
But, most importantly, we have learned to function as a team in the boat. It is not always the strongest team that gets to the finish line first, but the team that is most in sync with one another. Every seat is vital and taking ownership, wherever one is assigned, is and has always been critical to our success. We understand to not take this sport for granted, as life changes can have a profound effect on each of us. Houston Heat lost a Board Member and mentor a few years ago, the Honorable Judge Herbert Gee, but he would always paddle as long as he was capable and performed the best he could every time he set foot in the boat.
Special shout out to a few of the current members who were with HH for their first competitive DB race in Tampa 2006: Coach Albert, Ann, David, Mas, Matt and Si. Your dedication and longevity speaks volumes and clearly shows everyone the right way to embrace the sport. Also, thanks to our current coaches, Albert, David, Matt, Jeff and Jackson for always putting in extra time and effort to help us to always remain a competitive force on the water.
Because of the way our members carry themselves, Houston Heat is well respected throughout the dragon boat community. As we move forward to the next 10 years, may we continue to always display the principles of respect and good sportsmanship that the club was founded on. Many past and present members have contributed to make this club successful. Always wear your colors proudly and wish Houston Heat a very Happy Anniversary!
(Picture credit goes out to: Si Tran)