Want to Paddle with Us?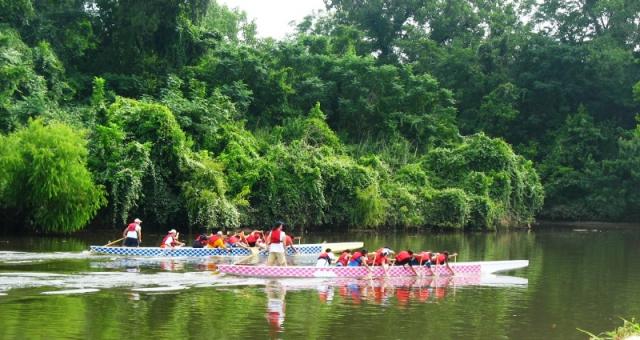 Whether you've never picked up a paddle before, or you've been Dragon Boating for years, Houston Heat welcomes paddlers of all levels of experience!
Dragon Boat racing is suitable for all levels of fitness with mixed male/female crews; no previous experience is required. But enthusiasm, dedication and a genuine team spirit are a must!
The best way to try out Dragon Boating is to join us at a Saturday morning water practice. Just check out the Practice Registration above, register online for a practice, and then meet us on Saturday morning – that's it!  Saturday water practices last approximately 2 hours, and all equipment (boats, paddles, personal floatation devices) is provided.  Don't worry if you've never paddled before – our practices are geared towards all levels of experience.  If you'd like to contact someone before coming to a practice, send an email to the Coaches.
The first two water practices are FREE for first-timers & guests (first time paddling with Houston Heat)*. To continue paddling with us after your two free practices, you can either become a full Houston Heat Dragon Boat Club member (benefits include's unlimited water practices, equipment discounts, and much more) or purchase a one-time 30-day unlimited practice trial membership for $30 (all subsequent practices are $15 each).
*Certain restrictions do apply.  To learn more, please review the membership page.
We also meet for land practices throughout the week.  Land practices involve endurance and strength training exercises, such as running or swimming and a combination of anaerobic and aerobic exercises.  There is no charge for land practices — just register online!  So come on out and get to know us if you're a little weary about getting in the boat!  We're a great group of people who love dragon boating with a passion!
So what are you waiting for?!?